News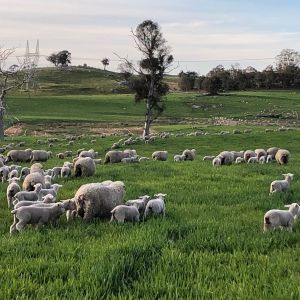 Poll Dorsets deliver premium price
25 May
Lambing down 8500 Merino ewes is no mean feat, but it is made easier by being confident in the outcome. How? By joining them to Poll Dorsets.
Events
High growth rates & early maturity
Outstanding carcas attributes
Ease of management
Superior skins and wool
Fertility & lamb survival
Poll Dorsets are the breed of choice for a growing number of farmers across Australia, Here our members tell us why.
Buyers I know – whether chasing trade or export lambs – all prefer the Poll Dorset first-cross, which I think comes down to the lamb's shape, fat content, yield and clean, white skin
Tom Pattinson, Prime Lamb Producer,
Wagga Wagga, NSW
Formed in 1954, we are the largest representative association of Poll Dorset breeders in Australia.As a member you can:
Breed, register and sell pedigreed Poll Dorsets
Benefits derived from APDA's marketing, promotion and communications activities targeted to further grow and develop the Poll Dorset breed
Ability to certify animal health (eg, Brucellosis Accreditation)
Exhibit sheep at various agricultural shows and events
Sell rams at multi-vendor events eg. Australasian Championships
PLUS MORE
Read about our membership