You'll find on this page:
The Poll Dorset Journal is a magazine publication mailed out to over 1,000 people in May, September and December and is used widely as a promotional tool for the Poll Dorset stud industry. Each issue is sent to all APDA members and interested industry representatives.
Each issue contains stud industry news and commercial lamb production features, youth activities and latest breed development initiatives.
ADVERTISING RATES
Full Colour (All prices are GST inclusive)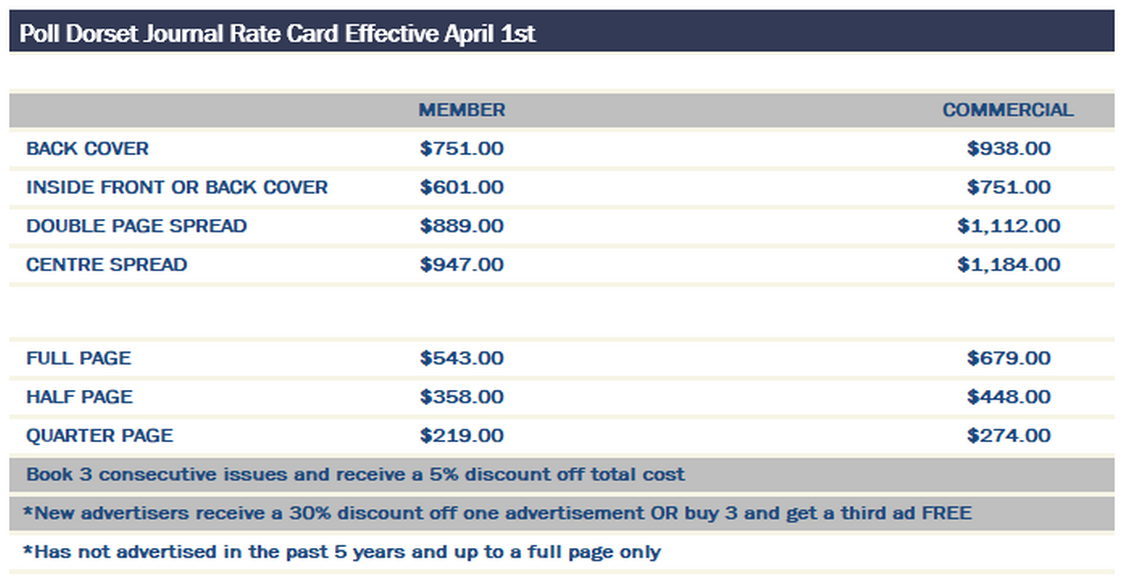 PRINT READY ARTWORK SPECIFICATIONS
– Print ready advertisements must be supplied as high resolution (300dpi) pdf or jpg in CMYK (not RGB).
– Full page advertisements need a 3mm bleed and crop marks
– Word, Publisher, Powerpoint or other file formats cannot be used for full production but may be supplied as a layout guide. Photographs must be supplied separately.
SUPPLIED PHOTOGRAPH SPECIFICATIONS
When sending photographs electronically for advertising or editorial use, they need to be at least 1MB in file size and high resolution; and attached as a jpeg file.
ADVERTISING DESIGN (SERVICE FEES)
The following basic typesetting fees will apply where professional artwork is not supplied:
All prices below are GST inclusive
Full Page: $104.50
1/2 Page: $82.50
1/4 Page: $60.50
(Up to 4 photographic scans are included in the services. Additional scans are $5 each.) Service fees do not apply where the complete advertising copy layout is supplied as a high resolution CMYK PDF file.


ADVERTISING BOOKINGS
Patrick Falconer
marketing@polldorset.org.au
P: (03) 5443 9902
F: (03) 5443 9354
Marketing and Communications/Journal Editor
Jamie-Lee Oldfield
M : 0429 933 926