By Michael McManus, AuctionsPlus
Poll Dorset listings on AuctionsPlus have fluctuated in correspondence with seasonal conditions since 2016. Listings have increased year on year from 2016 to peak in 2019 - at the height of the drought when destocking was prevalent throughout the eastern states. Listings peaked at 315,519 head, with numbers falling by 11% in 2020 due to improved seasonal conditions and a shift to flock rebuilding.

Numbers for the first half of 2021 are currently well down on previous years, but with spring lambs yet to hit the market and favourable seasonal conditions likely to result in abundant lamb numbers on the ground, large online throughput will be anticipated.

Listing trends from 2016 to 2021 are indicative of seasonal conditions. In 2019, a substantial rise in second cross Poll Dorset listings occurred as producers prioritised selling their second cross articles when destocking - as witnessed in the difference between second and first cross listings in 2019

Looking to 2020 with vastly improved seasonal conditions, Poll Dorset listings on AuctionsPlus have declined by 11% from 2019. Second cross listings decreased in volume due to a favourable shift in seasonal conditions, giving producers the ability to rebuild flocks, and in doing so retain numbers.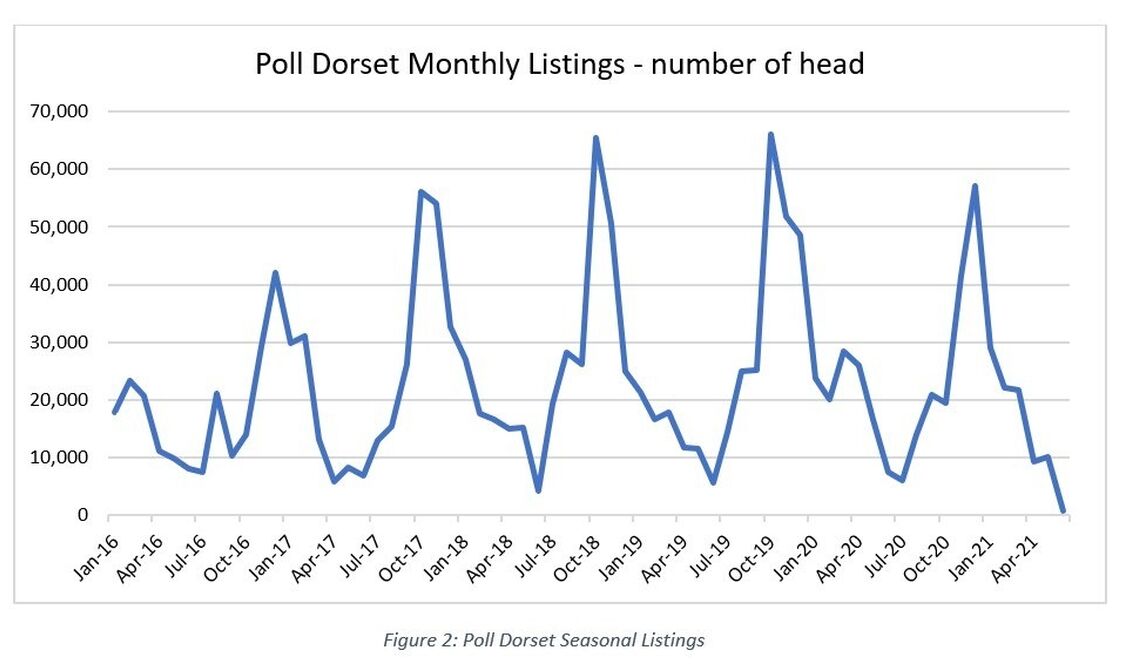 Diving further into throughput trends to assess seasonal influenced listings, a considerably lower Spring 2020 spike in listings highlighted the action of producers to retain stock and begin to rebuild flock numbers. Interestingly, another highlight in figure 2 is April 2020, when an uncharacteristic short spike in listings was witnessed, largely attributed to the closure of saleyards with the initial nationwide lockdown at the start of the COVID-19 outbreak.
With Spring 2020 marking the shift to a rebuild phase, a rise in numbers is likely this year, like in 2017, as conditions continue to improve, and producers start to sell additional numbers. Furthermore, the ongoing robust prices received for first and second cross mixed sex lambs and wethers is likely to entice producers to capitalise on the strong market.

Prices for first and second cross mixed sex lambs have risen steady year-on-year, with robust domestic and export demand underpinning prices. First and second cross Poll Dorset mixed sex lambs have increased by an average of 11% annually since 2016. For the first half of 2021, first and second cross lambs have averaged $163/head and $172/head, respectively. Second cross mixed sex lambs have traded at a premium to first cross lambs on AuctionsPlus since 2016.

Wether lambs have also seen considerable price increases year on year. First cross wether lambs averaged a 15% increase annually, while second cross wether lambs averaged 11%. Premiums for wether lambs have fluctuated, with second cross lambs fetching a higher average price in four out of the six years, with first cross wether lambs registering dearer trends in 2019 and again so far in 2021. The premium for first cross wether lambs can be attributed to the strong wool price, with the Eastern Market Indicator (EMI) topping at 2,000c/kg greasy in February 2019.

Clearance rates overall reflect fluctuations in supply and seasonal conditions, with lower clearance achieved during dry periods when listings are higher, and producers look to destock. As represented in figure 5, demand for Poll Dorset listings has been robust, with mixed sex lambs averaging 90%, wether lambs averaging 92% and the overall clearance for Poll Dorset listings averaging 88% since 2016. Poll Dorset clearance levels are much higher than the AuctionsPlus yearly sheep clearance average of 75% for the same period - indicating firm demand for Poll Dorset article and ongoing buyer confidence in the breed.
Listing and purchases are evenly weighted across the states from 2016 to 2021. NSW makes up on average 66% of Poll Dorset listings and 65% of purchases, followed by Victoria which accounts for 24% of both listings and purchases.
Since 2016 the Poll Dorset market has experienced strong price returns year on year, with the category average increasing steadily annually. As positive seasonal conditions continue to facilitate a growing national flock, the upcoming Spring lamb season will provide valuable insight into rebuilding progression and trading intentions.